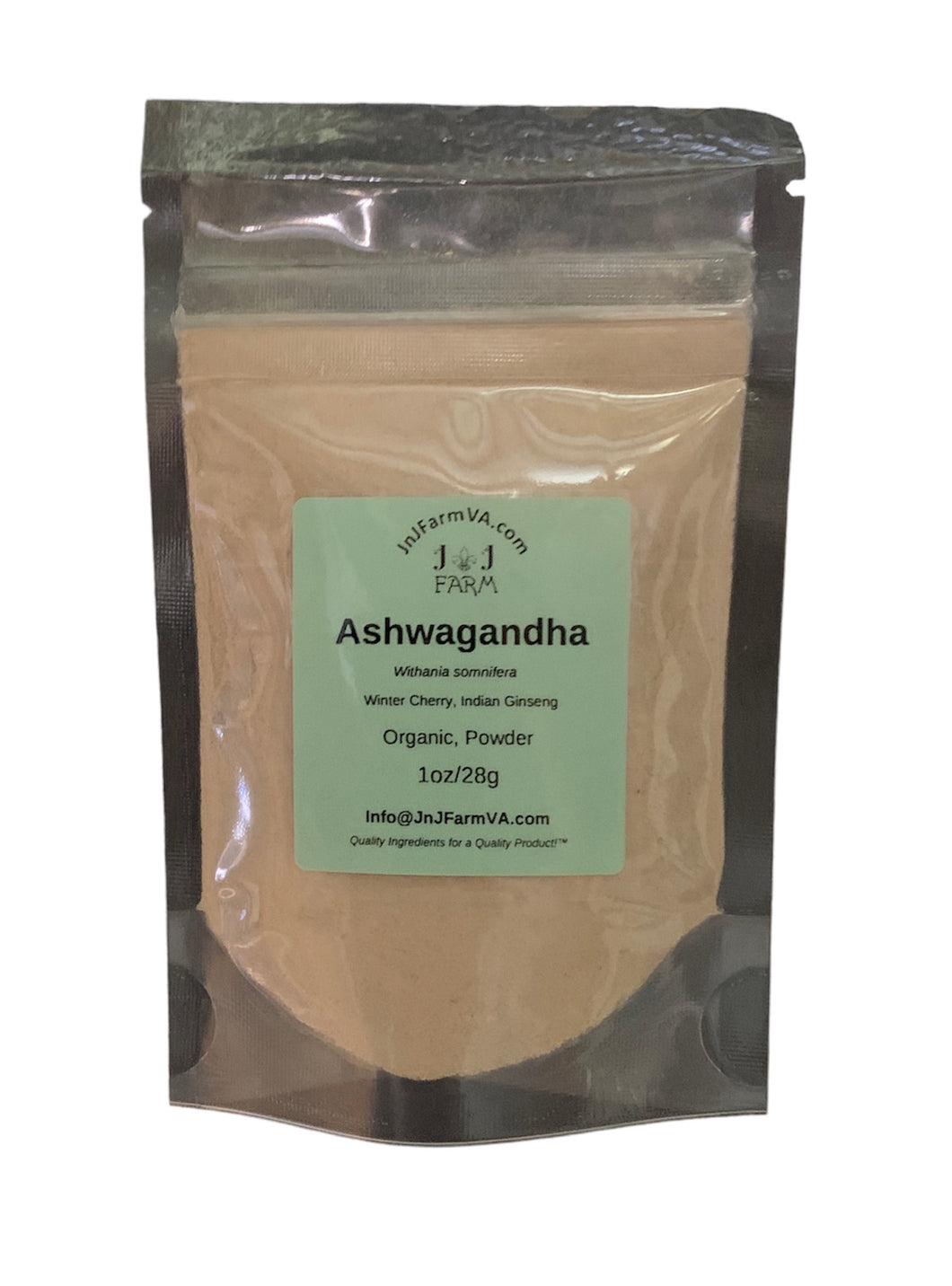 Ashwagandha
shwagandha Powder, Winter Cherry, Indian Ginseng, Withania Somnifera
1oz zip Bag
Originating in the Indian subcontinent, Ashwagandha is a powerful herb used in a variety of dishes and blends. Often called Winter Cherry & Indian Ginseng, this relative of the tomato can be powdered to create an intriguing ingredient. Light and chalky, this powder has a rich and earthy smell. Its complex flavor profile combines bitterness with a hint of sweetness in a sharp and piquant powder.
This powder can be combined with honey or clarified butter to produce a delicious seasoning called Churna, which is used in Indian cuisine.
Ashwagandha contains chemicals that might help calm the brain, reduce swelling, lower blood pressure, and alter the immune system. Since ashwagandha is traditionally used as an adaptogen, it is used for many conditions related to stress. Adaptogens are believed to help the body resist physical and mental stress.
Dr. Lin (Cleveland Clinic) points out that research has shown that ashwagandha can help normalize cortisol levels, thus reducing the stress response. In addition, ashwagandha has also been associated with reduced inflammation, reduced cancer risks, improved memory, improved immune function and anti-aging properties. 
A 2011 scientific report on the plant, published in the Journal of Stress Physiology & Biochemistry, indicates that it has anti-inflammatory, anti-oxidizing, anti-stress, sleep-inducing, and drug withdrawal properties. Many formulations that are made from this herb improve musculoskeletal problems such as arthritis and rheumatism. It also acts as a tonic that boosts energy and improves overall health and longevity.
Dosage
The root is available in the market in powdered, dried, or fresh root form. 1-2 tsp or 5-6 grams of the powder is recommended when you consume it for general well-being. You can also take Ashwagandha for anxiety relief. You could also consume organic Ashwagandha root powder, along with a glass of hot milk before going to sleep. Please consult an Ayurvedic doctor for the dosage.
Ashwagandha tea: You can make the tea by boiling the powder in water for 10 minutes. Don't use more than a teaspoon in one cup of water.
Side Effects of Using Ashwagandha
Pregnant Women: Pregnant women are advised to avoid the consumption of this herb as it possesses abortifacient properties.
Medical Interactions: Doctors advise caution because it can interact with regular medications, especially for those who are suffering from diseases like diabetes, hypertension, anxiety, depression, and insomnia.
Gastrointestinal problems: Avoid consumption in large amounts as this may have side effects such as diarrhea, upset stomach, and nausea.
NOTE: The information above has not been evaluated by the Food and Drug Administration. It is for educational purposes only. This product is not intended to diagnose, treat, cure, or prevent any disease. Due to FDA regulations, J&J Farm KY VA LLC is unable to provide dosage information or any medical advice. Please consult with a licensed healthcare professional for more information.
QUESTIONS & ANSWERS
Have a Question?
Be the first to ask a question about this.
Ask a Question